Lucas is 18Months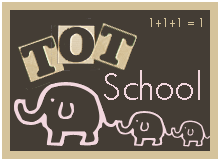 What we did this week....
Lucas LOVES marbles! He plays with them on a daily basis (supervised of course!). On Tuesday while Dominic was at school I set up a simple marble run for Lucas, he played with it for a little over an hour!
When Dominic got home from school they continued playing with this for awhile and I was able to pack 2 boxes - Yay!
On wednesday we played with water
I cut a sponge into small squares and put them in a tub with some water and soap and let Lucas and Dominic play in it they both love any sort of sensory play
Also on wednesday we explored our new
tot book
His favourite part of the tot book is putting the shapes in and out of the pouch
On thursday we did our STart project which involved stamping shapes!
He loved bangning them on the paper
Then we spent Friday - Monday up north at our trailer. It was a long weekend here in Canada (Victoria Day) so we had lots of BBQ's, campfires, and fireworks. I dont have too many pictures to share I was too busy enjoying time with family & friends. But here are a few pictures I was able to catch...
Lucas' first time eating ice cream
I think he liked it! : )
Lucas' cousin sharing a slice of watermelon with him at the beach
leaving the beach
That unfortunatley is all the pictures I have from the weekend!
And did you notice a blur to most of the pictures in this post? Someone with little sticky fingers got ahold of my camera and I didnt notice the dirty lense until I uploaded my pictures and seen the blurs!