Lucas is 18Months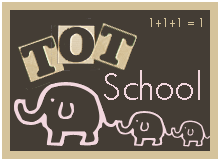 This will probably be our last Tot School post until after we move. It's only a few weeks to our moving date and its really time for me to start packing our toys as well as the rest of the house!
We worked with our Melissa and Doug
bead sequencing set
. I asked Lucas to use the green beads and he was doing good finding them....
... until he got a blue bead. Colors are something we still need to work on : )
We had a new sensory item this week, puzzles! Lucas really enjoyed this. He liked spooning the pieces into his cup.
We also worked on a puzzle this week
We did this
Melissa and Doug puzzle
we did the frame together and he put the animals in himself.
He really liked doing a big boy puzzle like he watches his brother do!
But his favourite part of course was tearing it apart so we could start all over again. We did this puzzle 3 times just this day, and
several
other times throughout the week.
Lucas likes to paint at the easel but this week was the first time he coloured on the dry erase board easel. Regular markers tend to not draw well on there, so we used our
window markers
and they stayed on great.
He really liked doing this, although now I'm a little nervous about him finding a marker somewhere and coloring on my walls!
When he was finished coloring his picture I gave him a wet cloth to erase his picture.
He liked this part too!
Lucas is really in to babies right now. He likes to take care of his babies by wrapping them in
blankies
and feeding them pretend food and sharing his cups with them.
So yesterday when I was at a garage sale and seen a doll stroller for 50 cents I just had to get it for him!
He loves it! It was hard for me to even get a picture of him with it he as been running around the house with it since we brought it home!
Lucas likes to point to himself and say baby...
Which has him trying to get into the stroller himself, what a little monkey! : )
Once we are settled in our new house I am planning on making our tot school time more focused. I'm not sure about themes yet, but I would definitely like to start introducing the alphabet and numbers to him. Right now I am working on making a form for me to jot down my ideas for each week. Once I'm finished making it I will post about it
here if
anyone is interested.