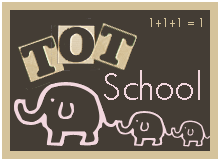 It has been awhile since my last tot-school post (or any post for that matter!) and the reason for this is that we are moving!!
We decided a few weeks ago that it was time for us to move (my hubby started a new job awhile ago and the commute is becoming too much) So we have been spending the bulk of our spare time fixing little things around the house and trying to keep it spotless for when realtors come. All our work has paid off because our house is now sold after only 8 days on the market! It all seems to be happening SO fast my head is spinning!!!
I'm Scared since we are moving quite far from all my family – it's only a 2hr drive but it still seems very far!
But Im also pretty excited about it too, we bought our new house yesterday and it is in a wonderful neighborhood with lots of nice parks & walking trails. We are also going to be able to walk to the library & rec centre!!
and now about Tot-School, here are some pictures from over the last 2 weeks...
I wrote a
post
a few days ago about how Lucas loves to help his mama, well he likes to help daddy too!
Daddy was raking up the yard waste and Lucas brought over his shovel to "elp daddy"
here he is putting the berries in the bag.
We've been spending a lot of time outside, so that our house stays clean : )
Lucas is beginning to enjoy the park, at first he wasn't so sure but after big brother showed him how to slide he got the hang of it.
We did some work with small spaces this week
He really enjoyed doing this and filled every hole
It took lots of concentration : )
I picked up some of
these
at Michaels a few weeks ago for Dominic
and this week I set it our for Lucas he really enjoyed "jabbing" the brush at the paper.
We also used our Melissa and Doug
beads
this week
We threaded them on to a string and made necklaces!
He needed a bit of help with getting the beads on the string but he still really enjoyed doing it. I left the beads and string out on our activity table for a few days and he kept going back to it.
We listen to her music almost everyday, and if we're not listening to it we're signing it!!
Here is Lucas with an old cell phone singing 'Telephone' from the
We Are.... The Laurie Berkner Band CD
Its his most favorite song right now he is always running around the house saying "helloooooooooooooo hellooooooooooooooo"