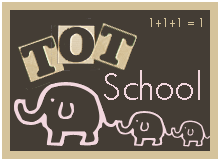 Hello other Tot Schoolers! Thanks for all the replies to my questions last week it really helped me out! I have decided that I will be doing themes with Lucas; however I will not be starting that until he is a bit older - I'm thinking around 18months would be a good time to start.
What we did this week....
We were counting the beads as he threaded them on, he is getting really good at counting he can count to 7 now!!
and he clapped for himself each time he completed a row : )
For a long time he sat threading this one bead onto the dowel
Once he was finished with this we moved onto playing with his cars...
I picked out a few of his yellow cars and a few red cars and put them in rows to show him and sort them but he had zero interest in that! Soo we just played on his car mat.
I made this Tornado sensory bottle awhile ago and this week he began to show some interest in it...
I put some glitter in there as well and he likes to shake the bottle and watch the glitter float around, he calls it "no" - snow.
He is really quite good at it
Look how concentrated he is!
and our last activity of the week was making some shamrock decorations for St.Patricks day
I drew a shamrock onto their paper and let them go at it with the glue, and some green collage materials
My favorite photo from this week: