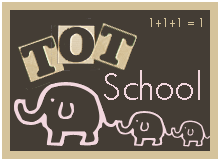 I don't have many pictures for this weeks tot school, it was a very crazy week for us! Lucas has not been feeling to good, he has got a cold and also has some molars and eye teeth are coming in so all around he was a very cranky little guy. I did manage to capture a few fun moments though, so here they are:
I switched out our beans for some rice and lentils, he LOVES the sensory table and is always very excited to see something new in there to explore.
It was looking a little plain so I added our magnetic alphabet letters & numbers
to add a bit of colour and also a fun way to explore the alphabet!
Lucas came across this old tylenol bottle in our recycling bin, and has been playing with it ever since. He enjoys twisting the lid on and off, to make it more fun I gave him 5 small wooden balls to drop in and dump out.
Here he is putting the balls in and counting with daddy.
We tried to do a Valentines day sun catcher collage....
But he really had zero interest in it.
Instead he wanted to control the music....
He pushes the chair over to the shelf all the time to do this!
One toy he did enjoy this week was his
animal cottage
I usually rotate our toys every 2 weeks, and he was very excited to see this toy come back out as its favorite around here.
And we did our yoghurt painting. You can read about it
here
Lucas also started doing the sign for help this week!