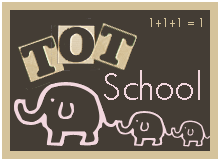 This week in tot school. . .
We played with our stacking and nesting cups!
I would build the tower and every time he tried to add a piece it would fall over.
He prefers to nest them like this instead.
Here Lucas is looking at a book he loves books! A few months ago we made some eavestrough bookshelves for a little corner in our playroom I also added some chairs, its become one of his favorite spots to hangout!
Lucas loves this
latches
board by Melissa and Doug and always plays with it, his favorite pieces are the cat and dog (which are now lost since he carries them everywhere!!)
Since learning to walk a few weeks ago this has become another favorite that he plays with daily, its been great helping him balance.
Dominic has a journal that we work on (almost) daily, and every time we take it out Lucas tries to grab at the pencil crayons and notebook. So last week I picked up a second notebook for Lucas to scribble in so that Dominic can work with a little less distraction.
I love this picture! it looks like Lucas is trying to solve a math question by counting out his fingers!
Mr Independent! does not like to be fed so this week I let him spoon feed himself. Meal times were a little bit messier but he sure is proud of himself!
I cut up a bunch of paper in different textures and colors and we did a paper collage!
To make things a bit easier I brushed his paper with glue before he started
Here is his masterpiece.
Dominic and I made up a batch of our favorite play-dough recipe this week
Lucas wasn't too sure of it at first, but then ended up having a great time..... and he didn't eat it!!
rolling our the dough!
Here is Lucas talking on a play phone, another toy he plays with daily!
"hello hello..... bbbbmraraodfadr.... bye"
Yes that is exactly what he says LOL!!