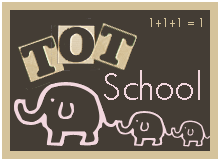 I have been wanting to participate in tot school for awhile now, but Dominic is too big, and Lucas wasn't quite big enough! Now at 14 Months old it is time for us to join in on the fun!
This is one of Lucas' favorites! He loves to take the rings off and then put them back on.
Here he is reading one of his new books from Christmas, Lucas loves to look at all books but he especially likes this one because of the bright pages and the peek-a-boo flaps.
Lucas likes to put things inside of other things, here he is putting the peg people inside their truck.
After lots of practice Lucas has mastered the art of walking (and running away from mama!)
Here Lucas is working on his hinges board, each door he opens has a magnetic animal behind it he likes to take them out and put them on our fridge.
And of course there was our fun sensory experience with the shaving cream (which he had to get a taste of YUCK!)
Also this week Lucas started doing 2 new signs; Bath and Please.