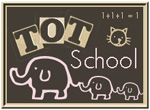 That was a much longer break then I had originally anticipated, but I am glad to be back! Here is a collection of pictures from the past few months…
        drawing circles in the sand
      torn paper collage…kinda. He lost interest : )

         playing DS Games with big brother
         Lucas inherited an old cell phone which he LOVES! Its been great helping him learn his numbers.

        Mr. Shaggy Doo – got a hair cut
                                           Lacing and wearing wooden shoes

         making bus trains ~ my mom gives him a one of those little yellow buses every time we go to her house for a visit.

         rice and lentils in the sensory table
         meeting petey the bird

                                            … and taking him for a ride on mack
         play dough sculptures ~ with googly eyes, big beads, and feathers